Best Montessori Toys for different age groups
The Montessori Method of education is a unique and playful approach to imparting holistic education to developing children.

The Montessori Method is more than just books and traditional curricula, it is a pathway for children to achieve optimum excellence in relation to their cognitive, sensorial, physical, social, and emotional attributes.

One of the main goals of the Montessori method is the education of the senses. The senses are the gateway to knowledge, especially during the first six years of the child's life.
Specific materials were developed by Dr. Maria Montessori to facilitate the education of the senses.
The incorporation of Montessori sensorial materials in the curriculum encourages the child to become aware, attentive, engaged, and entertained in the classroom.
The child is highly receptive to gathering information and knowledge from the surrounding environment.

The Montessori Sensorial Materials are designed to provide appropriate stimuli for developing children that inspire their natural curiosity.
Montessori Education along with meticulously designed Montessori materials also makes use of exciting Montessori Wooden toys that promote sensory development in children. The Montessori toys are toys that align with the Montessori Philosophy.

Toys in the Montessori Prepared Environment encourage the child to learn through experimenting.
Unlike traditional toys, Montessori toys are not flashy or noisy which might overwhelm the child.
Montessori toys should be:
Easy to Hold
Easy to Handle
Easy to Touch
Should be child-friendly.
Based on Montessori Principles the Toys should be made from naturally sourced materials like wood, bamboo, steel, glass, and cotton.

Montessori Toys should also facilitate the development of Fine Motor Skills and Gross Motor Skills in children from a young age. Montessori Toys should only provide sensorial education and not make the child feel overwhelmed.

Traditional toys help the child provide children with specific directions with only one possible outcome, on the other hand, Montessori toys unlike other toys have multiple outcomes that a child is able to discover these outcomes through trial and error.

It can be confusing to choose Montessori toys for their playrooms. Parents Should be aware of the basic characteristics of Montessori toys before they choose the right toys for their children.  
Key Takeaways:
Montessori toys are open-ended toys based on the Montessori system of education.
Montessori Toys are made from naturally sourced substances like wood, metal, glass, or rubber, making them both child-friendly and environment-friendly.
These Toys are more than just a fun material for your child to interact with and often focus on developing one skill at a time.
While there are no specific Montessori toys developed by Dr. Maria Montessori in the Montessori Method, Montessori toys can be any toy that aligns with the Montessori Philosophy and Principles.
Characteristics of Montessori Toys:
The Montessori toys just like other Montessori Materials are developed based on key Montessori Principles.
Montessori toys should develop a sense of natural curiosity in the child. The Montessori Toys help the child develop by improving one skill at a time.
The characteristics of Montessori toys parents should keep in mind before investing their money are:
Simplicity:
Sometimes flashy, noisy, colorful, and complex toys can overwhelm the child.
The main purpose of Montessori toys provides the child with just the right amount of sensory stimulation that can keep the child engaged and attentive.
These toys are developed to facilitate the child with organized information.
The Montessori toys should be:

of solid colors
should not comprise too many moving parts
should not be too flashy as well as noisy.


Reality:
During the first six years, the child is unable to differentiate between fantasy and reality.
The child should be provided with toys based on real-life to develop the child's imagination as well as secure the child's relationship with the world.
Parents should choose toys for their children that teach the child about cause and effect.

Natural Materials:
The Montessori Method of education prohibits the use of plastic and synthetic materials.
Montessori toys should be made with:

Paper
Rubber
Polished wood
Metal
Stainless steel
Shatterproof glass
Felt
Bamboo


Functionality and Independence:
Montessori toys should be concrete materials that require the child to actively participate.
Montessori toys don't have multiple and complex parts that might confuse or overstimulate the child.
The toys should be:

Easy to manipulate
Hold and interact with
Facilitate the development of the child's decision-making skills and independence.

They Should willingly pick up the toys and interact with the toys on their own terms.
How to Choose Montessori Toys:
Looking for Montessori toys can be hard and confusing when one does not know where to start.
There are no specifically designed "Montessori Toys", but that does not mean parents cannot incorporate Montessori toys in their child's playroom.

Montessori toys are basically toys that align with the basic principles and values of the Montessori Philosophy.

Parents can find such toys if they look for toys manufactured from naturally sourced materials that aid in the emphasis on child-directed as well as child-centered learning.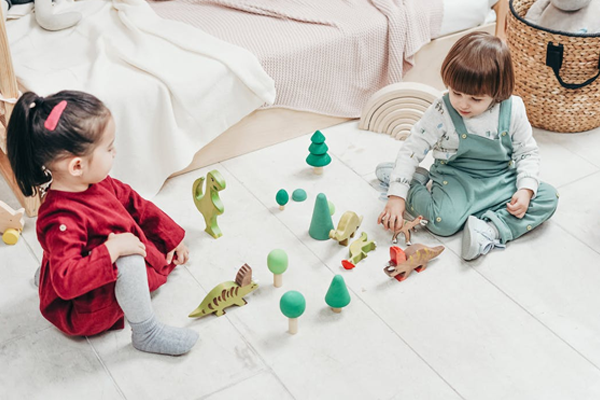 After understanding the basic principles of Montessori Toys, Parents should look for toys that are mainly simple, minimal, aesthetically pleasing, and functional.

Natural materials:
According to Dr. Maria Montessori Nature inspires a child's inner curiosity. The Montessori method of education promotes the use of natural materials and items.
The toys should not be made of plastic or synthetic materials, but rather with materials like:

Wood
Fabrics
Steel
Glass
Bamboo

These toys can be easily spotted in stores.


Colors and Textures:
The Montessori method of education promotes simplicity.
The toys should have too many colors that might overstimulate the child. Simple solid-colored toys can do the job.
Parents can also go for toys with multiple textures to stimulate the child's tactile senses and keep the child entertained as well as engaged.

Shapes:
Parents should choose differently shaped toys to keep the child interested. Choosing toys with interesting shapes and multiple surfaces can enhance the child's imagination.
The incorporation of different shapes also familiarizes the child with basic geometry and refines the child's fine motor skills.
Toys that are shaped like:

triangles
squares
circles
can be used to introduce the child to geometric concepts.
List of Montessori Toys for Different Age Groups:
Montessori Toys can be confusing and difficult to choose when one doesn't know which toy will best facilitate the child's needs.
It is important to understand that different ages require different sensorial stimuli.
Here is a list of interesting, exciting, and engaging Montessori Toys based on the needs as well as requirements of different age groups.
Montessori Toys For Infants: (birth to 6 months)

Black and white Picture books
Baby Mobiles or Baby Play Gyms
Rattles and Shakers made out of wood
Plush Balls

Montessori Toys For Infants: (6+ months)

Baby Self Mirror or Acrylic Mirror
Textured Balls
Child-Safe Instruments
Play Tunnels

Montessori Toys For Infants: (12+months)

Abacus
Building Blocks
Vertical Stackers
Dolls
Animal, Word, Plants, etc Flashcards
Pop up Toys


Montessori Toys For Infants: (18+ Months)

Hammer style toys
Figurines
Push toys
Gardening sets
Pull up toys
Crystal Mining kit


Montessori Toys for children: (3+years old)

Beeswax Block Crayons
Multiplication Boards
Peg Boards
Building and interlocking sets
Modeling Clay Kits
Wooden Drum sets
Practical Life Pieces
Fruit set
Wooden Lacing Sneaker
Child-friendly scissors set
Jumbo Nuts and Bolt Sets


Montessori Toys For Children: (5 to 8 years old)

STEM Toys
Board Games
Mindware Pattern Play
Science kits
Mathematical Board Games
Circuit Kits
Kaleidoscope
Mineral Science kit
World Maps and Globes
Montessori Tool kits
Building and constructing kits
What is the significance of Montessori Toys?
Toys are seldom associated with education and are often characterized as materials to enhance the child's playtime.
Who says education and learning can't be fun? The Montessori Method of Education acknowledges the importance of Toys and incorporating these toys in the Montessori Prepared Environment.
Montessori Toys are common toys that often align with the Montessori Philosophy and principles. These toys stimulate the child's senses, encourage the child to explore new horizons, and enhance the child's learning experience.
See Also: